Toyota CH-R Owners Manual: Settings display
The settings of the following items can be changed.
For functions that can be enabled or disabled, the function switches between on and off each time

is pressed.

LDA (Lane Departure Alert)
Select to set up the following items.
Steering Assist on/off

Alert sensitivity

Sway Alert on/off

Sway sensitivity

PCS (Pre-Collision System)
Select to set up the following items.
PCS on/off

PCS sensitivity

BSM (Blind Spot Monitor) (if equipped)
Select to set up the following items.
BSM function on/off

RCTA function on/off*
*: The RCTA function can be enabled/disabled only when the BSM function is enabled.
Driving mode select

Vehicle Settings

(Tire pressure warning system) setup
Select to initialize the tire pressure warning system.
Meter settings
Select the menu to set up the following items.
Language
Select to change the language on the display.
Units
Select to change the unit of measure for fuel consumption.
(Eco Driving Indicator Light) setup
Select to activate/deactivate the Eco Driving Indicator Light
Drive information 1 and 2
Select to select up to 2 items that will be displayed on a Drive information screen, up to 2 Drive information screens can be set.
Pop-up display
Select to set the pop-up displays*, which may appear in some situations, on/off.
Speed limit
Select to setup speed limit indicated based on navigation system (U.S.A. only)
Default settings
Registered or changed meter settings will be deleted or returned to their default setting.
*: Route guidance display of the navigation system-linked system (if equipped) and incoming call display of the hands-free phone system.
■Setting items
"Meter Settings" and "Vehicle Settings" setting items are not selectable during driving and cannot be operated.

Also, the settings screen is temporarily canceled in the following situations.

Settings for functions not equipped to the vehicle are not displayed.

When a function is turned off, the related settings for that function are not selectable.
■Pop-up display In some situations, such as when a switch operation is performed, a pop-up display will be temporarily displayed on the multi-information display.
■Liquid crystal display Small spots or light spots may appear on the display. This phenomenon is characteristic of liquid crystal displays, and there is no problem continuing to use the display.
■When disconnecting and reconnecting battery terminals The drive information will be reset.
■Eco Driving Indicator Zone Display Suggests Zone of Eco driving and Eco driving ratio based on acceleration.
Zone of Eco driving

Eco driving ratio based on acceleration
If the vehicle exceeds Zone of Eco driving, the green area disappears and Eco Driving Indicator Light will turn off.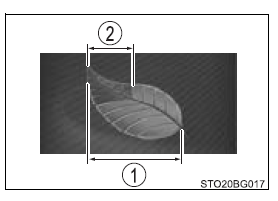 ■G Monitor
The following item is displayed.
G-force display
Displays the current G-force state.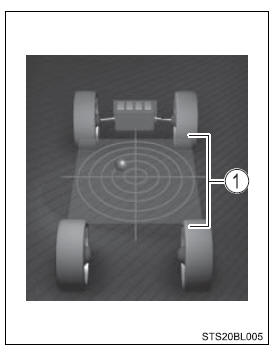 ■Ending display When the engine switch is turned off, each of the following will be displayed on the multi-information display, and will extinguish after approximately 30 seconds.
Elapsed time
Distance
Average fuel consumption
WARNING
■Caution for use while driving
When operating the multi-information display while driving, pay extra attention to the safety of the area around the vehicle.
Do not look continuously at the multi-information display while driving as you may fail to see pedestrians, objects on the road, etc. ahead of the vehicle.
■The information display at low temperatures Allow the interior of the vehicle to warm up before using the liquid crystal information display. At extremely low temperatures, the information display monitor may respond slowly, and display changes may be delayed.
For example, there is a lag between the driver's shifting and the new gear number appearing on the display. This lag could cause the driver to downshift again, causing rapid and excessive engine braking and possibly an accident resulting in death or injury.
■Cautions during setting up the display As the engine needs to be running during setting up the display, ensure that the vehicle is parked in a place with adequate ventilation. In a closed area such as a garage, exhaust gases including harmful carbon monoxide (CO) may collect and enter the vehicle. This may lead to death or a serious health hazard.
NOTICE
■While setting up the display To prevent battery discharge, ensure that the engine is running while setting up the display features.
The multi-information display presents the driver with a variety of vehicle data. Menu icons Displays the following information when an icon is selected. Some of the information may be display ...
Fuel consumption information can be displayed on the audio/ visual system screen. Trip information 1. Press the "MENU" button. 2. Select "Info" on the "Menu" scr ...
Other materials:
Toyota CH-R Service Manual > Airbag System: Lost communication with Side Airbag Sensor RH (B1622/81,B1623/81,B1632/81,B1633/81,B1642/81,B1643/81,B166D/81,B166E/81)
DESCRIPTION The side collision sensor RH circuit (bus 1) consists of the airbag sensor assembly, door side airbag sensor RH, No. 1 side airbag sensor RH and No. 2 side airbag sensor RH. The door side airbag sensor RH, No. 1 side airbag sensor RH and No. 2 side airbag sensor RH detect impacts ...
Toyota CH-R Service Manual > Theft Deterrent / Keyless Entry: Electrical Key Oscillator(for Rear Floor)
Components COMPONENTS ILLUSTRATION *1 BENCH TYPE REAR SEAT CUSHION ASSEMBLY *2 NO. 2 INDOOR ELECTRICAL KEY ANTENNA ASSEMBLY *3 REAR CENTER SEAT OUTER BELT ASSEMBLY *4 REAR SEAT CUSHION LOCK HOOK ...