Toyota CH-R Service Manual: Ambient Temperature Sensor
Components
COMPONENTS
ILLUSTRATION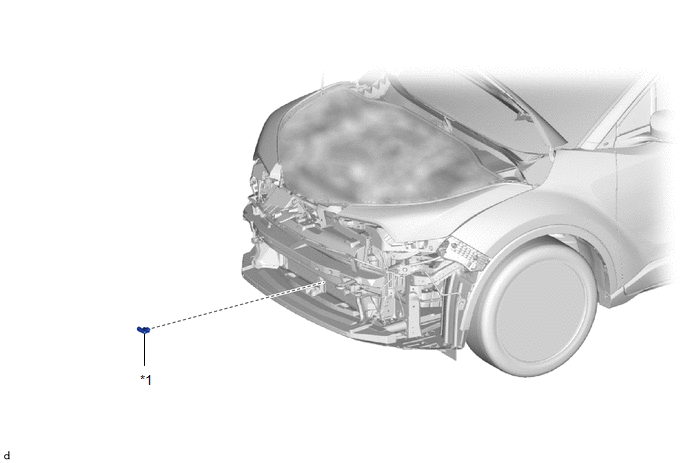 | | | | |
| --- | --- | --- | --- |
| *1 | THERMISTOR ASSEMBLY | - | - |
Removal
REMOVAL
PROCEDURE
1. REMOVE FRONT BUMPER ASSEMBLY
Click here


2. REMOVE THERMISTOR ASSEMBLY
| | |
| --- | --- |
| (a) Disconnect the connector. | |
(b) Disengage the clamp to remove the thermistor assembly.
Inspection
INSPECTION
PROCEDURE
1. INSPECT THERMISTOR ASSEMBLY
(a) Check the resistance.
(1) Measure the resistance according to the value(s) in the table below.

Standard resistance:

Tester Connection

Condition

Specified Condition

1 - 2

10°C (50°F)

3.00 to 3.73 kΩ

15°C (59°F)

2.45 to 2.88 kΩ

20°C (68°F)

1.95 to 2.30 kΩ

25°C (77°F)

1.60 to 1.80 kΩ

30°C (86°F)

1.28 to 1.47 kΩ

35°C (95°F)

1.00 to 1.22 kΩ

40°C (104°F)

0.80 to 1.00 kΩ

45°C (113°F)

0.65 to 0.85 kΩ

50°C (122°F)

0.50 to 0.70 kΩ

55°C (131°F)

0.44 to 0.60 kΩ

60°C (140°F)

0.36 to 0.50 kΩ

NOTICE:

Hold the sensor only by its connector. Touching the sensing portion may change the resistance value.
When measuring, the sensor temperature must be the same as the ambient temperature.
Use a thermometer to detect the ambient temperature of the installation area around the thermistor assembly.

HINT:

As the temperature increases, the resistance decreases (see the graph).

If the specified condition is not met, replace the thermistor assembly.

*a

Component without harness connected

(Thermistor Assembly)

*b

Sensing Portion

*c

Resistance (kΩ)

*d

Temperature (°C (°F))

*e

Allowable Range
Installation
INSTALLATION
PROCEDURE
1. INSTALL THERMISTOR ASSEMBLY
| | |
| --- | --- |
| (a) Engage the clamp to install the thermistor assembly. | |
(b) Connect the connector.
2. INSTALL FRONT BUMPER ASSEMBLY
Click here