Toyota CH-R Service Manual: Lost Communication with Alternator (P161A)
DESCRIPTION
The ECM and generator assembly detect reception errors respectively.
The generator assembly reception error detected by the generator assembly is sent to the ECM via LIN communication. If an error occurs in the ECM or generator assembly, the ECM determines there is a LIN communication error and stores this DTC.
DTC No.

Detection Item

DTC Detection Condition

Trouble Area

P161A

Lost Communication with Alternator

Generator assembly or ECM communication stop for about 17 minutes or more with the ignition switch ON.

(1 trip detection logic)

Wire harness and connector
Generator assembly
ECM
WIRING DIAGRAM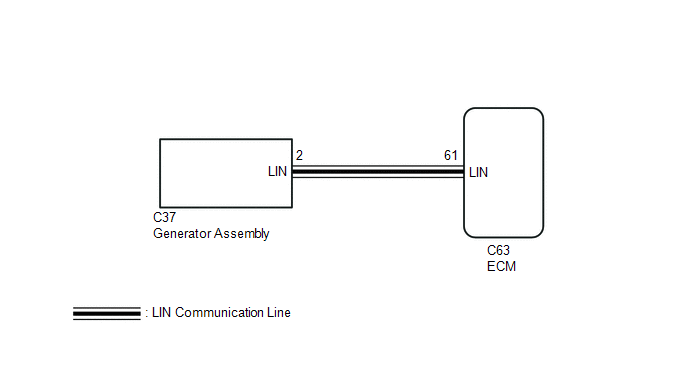 PROCEDURE
(a) Check the charging system.
Click here

| | | |
| --- | --- | --- |
| NG | | REPAIR OR REPLACE CHARGING SYSTEM |
OK

| | |
| --- | --- |
| 2. | CHECK HARNESS AND CONNECTOR (ECM - GENERATOR WITH REGULATOR ASSEMBLY) |
(a) Disconnect the C63 ECM connector.
(b) Disconnect the C37 generator assembly connector.
(c) Measure the resistance according to the value(s) in the table below.
Standard Resistance:
| Tester Connection | Condition | Specified Condition |
| --- | --- | --- |
| C63-61 (LIN) - C37-2 (LIN) | Always | Below 1 Ω |
| C63-61 (LIN), C37-2 (LIN) - body ground | Always | 10 kΩ or higher |
| | | |
| --- | --- | --- |
| OK | | REPLACE GENERATOR ASSEMBLY |
| | | |
| --- | --- | --- |
| NG | | REPAIR OR REPLACE HARNESS OR CONNECTOR |