Toyota CH-R Owners Manual: Canceling and resuming the speed control
Pulling the lever toward you cancels the speed control.

The speed control is also canceled when the brake pedal is depressed.

(When the vehicle has been stopped by system control, depressing the brake pedal does not cancel the setting.)

Pushing the lever up resumes the cruise control and returns vehicle speed to the set speed.

However, when a vehicle ahead is not detected, cruise control does not resume when the vehicle speed is approximately 25 mph (40 km/h) or less.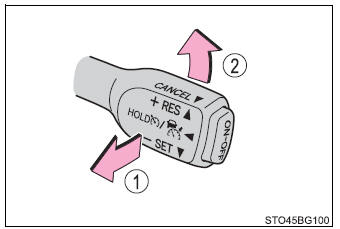 Approach warning (vehicle-to-vehicle distance control mode)
When your vehicle is too close to a vehicle ahead, and sufficient automatic deceleration via the cruise control is not possible, the display will flash and the buzzer will sound to alert the driver. An example of this would be if another driver cuts in front of you while you are following a vehicle.
Depress the brake pedal to ensure an appropriate vehicle-tovehicle distance.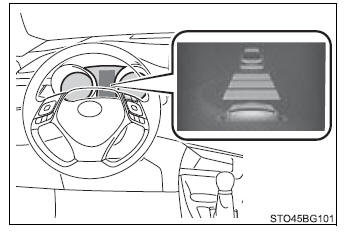 ■ Warnings may not occur when In the following instances, warnings may not occur even when the vehicle-to-vehicle distance is small.
When the speed of the preceding vehicle matches or exceeds your vehicle speed
When the preceding vehicle is traveling at an extremely slow speed
Immediately after the cruise control speed was set
When depressing the accelerator pedal