Toyota CH-R Service Manual: Antenna Cord
Components
COMPONENTS
ILLUSTRATION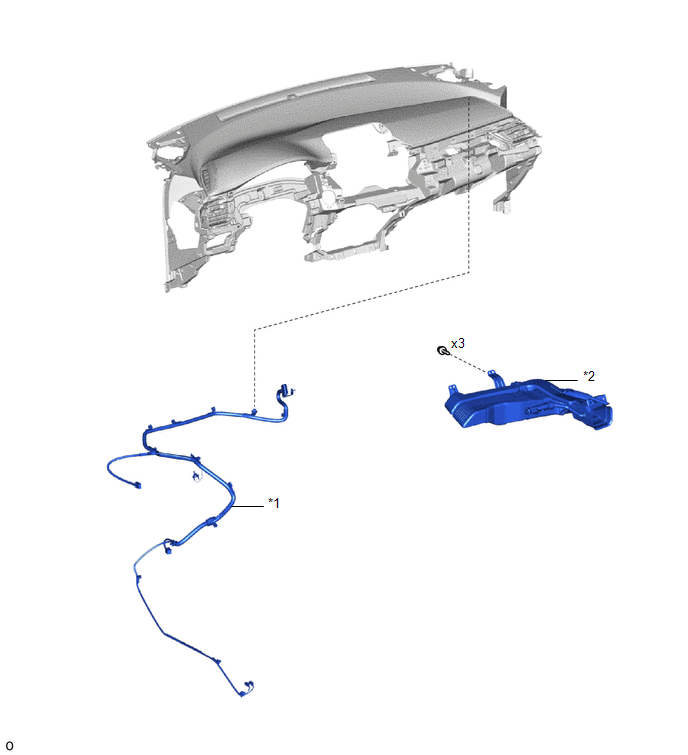 | | | | |
| --- | --- | --- | --- |
| *1 | ANTENNA CORD SUB-ASSEMBLY | *2 | NO. 3 HEATER TO REGISTER DUCT SUB-ASSEMBLY |
ILLUSTRATION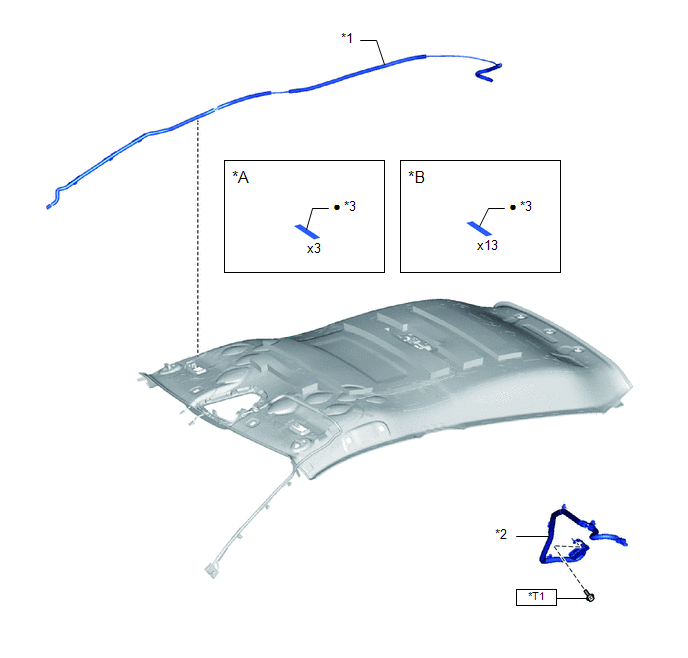 *A

Type A

*B

Type B

*1

NO. 2 ANTENNA CORD SUB-ASSEMBLY

*2

NO. 3 ANTENNA CORD SUB-ASSEMBLY

*3

ADHESIVE TAPE

-

-

●

Non-reusable part

-

-

*T1

for Type A: 10.5 N*m (107 kgf*cm, 8 ft.*lbf)

for Type B: 10 N*m (102 kgf*cm, 7 ft.*lbf)

for Type C: 10 N*m (102 kgf*cm, 7 ft.*lbf)

-

-
Removal
REMOVAL
CAUTION / NOTICE / HINT
The necessary procedures (adjustment, calibration, initialization, or registration) that must be performed after parts are removed and installed, or replaced the during antenna cord sub-assembly removal/installation are shown below.
Necessary Procedures After Parts Removed/Installed/Replaced
Replaced Part or Performed Procedure

Necessary Procedure

Effect/Inoperative Function when Necessary Procedure not Performed

Link

Disconnect cable from negative battery terminal

Initialize back door lock

Power door lock control system

Memorize steering angle neutral point

Lane departure alert system (w/ Steering Control)

Pre-collision system
CAUTION:
Some of these service operations affect the SRS airbag system. Read the precautionary notices concerning the SRS airbag system before servicing.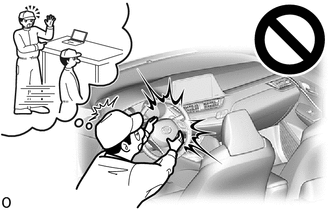 Click here

PROCEDURE
1. REMOVE ANTENNA CORD SUB-ASSEMBLY
Click here

Installation
INSTALLATION
PROCEDURE
1. INSTALL ANTENNA CORD SUB-ASSEMBLY
Click here