Toyota CH-R Owners Manual: Before driving
Floor mat
Use only floor mats designed specifically for vehicles of the same model and model year as your vehicle. Fix them securely in place onto the carpet.
1. Insert the retaining hooks (clips) into the floor mat eyelets.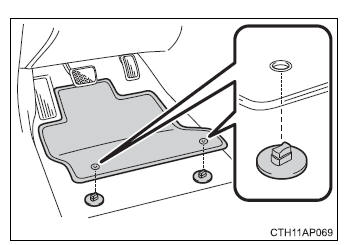 2. Turn the upper knob of each retaining hook (clip) to secure the floor mats in place.
*: Always align the

marks.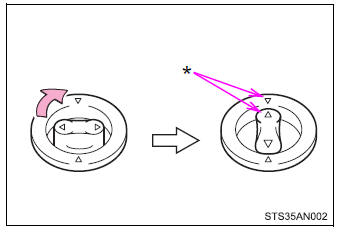 The shape of the retaining hooks (clips) may differ from that shown in the illustration.
WARNING
Observe the following precautions.
Failure to do so may cause the driver's floor mat to slip, possibly interfering with the pedals while driving. An unexpectedly high speed may result or it may become difficult to stop the vehicle. This could lead to an accident, resulting in death or serious injury.
■When installing the driver's floor mat
Do not use floor mats designed for other models or different model year vehicles, even if they are Toyota Genuine floor mats.
Only use floor mats designed for the driver's seat.
Always install the floor mat securely using the retaining hooks (clips) provided.
Do not use two or more floor mats on top of each other.
Do not place the floor mat bottom-side up or upside-down.
■Before driving
Check that the floor mat is securely fixed in the correct place with all the provided retaining hooks (clips). Be especially careful to perform this check after cleaning the floor.
With the engine stopped and the shift lever in P, fully depress each pedal to the floor to make sure it does not interfere with the floor mat.
For safe driving, adjust the seat and mirror to an appropriate position before driving. Correct driving posture Adjust the angle of the seatback so that you are sitting straight up and so th ...
Other materials:
Toyota CH-R Service Manual > Curtain Shield Airbag Assembly: On-vehicle Inspection
ON-VEHICLE INSPECTION CAUTION / NOTICE / HINT CAUTION: Be sure to correctly follow the removal and installation procedures for the curtain shield airbag assemblies. PROCEDURE 1. INSPECT CURTAIN SHIELD AIRBAG ASSEMBLY (for Vehicle not Involved in Collision) (a) Perform a diagnostic system che ...
Toyota CH-R Service Manual > Wiper Switch: Installation
INSTALLATION PROCEDURE 1. INSTALL WINDSHIELD WIPER SWITCH ASSEMBLY (a) Engage the claw to install the windshield wiper switch assembly as shown in the illustration. Install in this Direction (b) Connect the 2 connectors. 2. INSTALL UPPER STEERING COLUMN COVER ...