Toyota CH-R Owners Manual: Washer fluid
Add washer fluid in the following situations:
A washer does not work.
The warning message appears on the multi-information display (if equipped).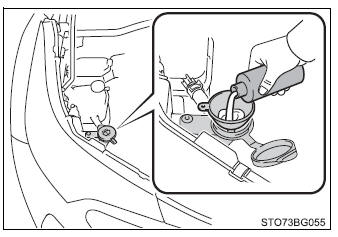 The washer fluid level is extremely low (type A) or at "LOW" (type B).
Type A
Raise the cap keeping your finger pressed down on the hole in the center and check the fluid level in the tube.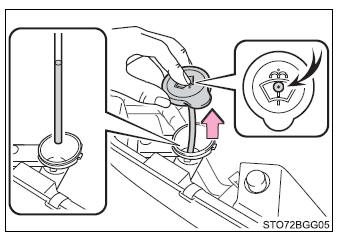 Type B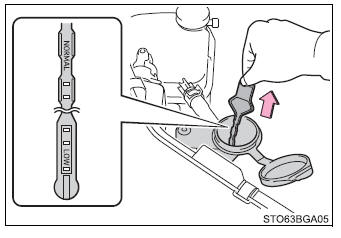 ■Using the gauge (type B) The washer fluid level can be checked by observing the position of the level on the liquid-covered holes in the gauge.
If the level falls below the second hole from the bottom (the "LOW" position), refill the washer fluid.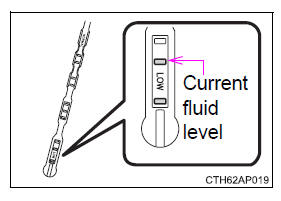 WARNING
■When adding washer fluid Do not add washer fluid when the engine is hot or running as washer fluid contains alcohol and may catch fire if spilled on the engine, etc.
NOTICE
■Do not use any fluid other than washer fluid Do not use soapy water or engine antifreeze instead of washer fluid.
Doing so may cause streaking on the vehicle's painted surfaces, as well as damaging the pump leading to problems of the washer fluid not spraying.
■Diluting washer fluid Dilute washer fluid with water as necessary.
Refer to the freezing temperatures listed on the label of the washer fluid bottle.
Check the battery as follows. ■ Battery exterior Make sure that the battery terminals are not corroded and that there are no loose connections, cracks, or loose clamps. Terminals Hold-down ...
Replace or rotate tires in accordance with maintenance schedules and treadwear. Checking tires Check if the treadwear indicators are showing on the tires. Also check the tires for uneven wear, s ...