Toyota CH-R Owners Manual: Seat heaters
Seat heaters heat the front seats.
WARNING
Care should be taken to prevent injury if anyone in the following categories comes in contact with the seats when the heater is on:

Babies, small children, the elderly, the sick and the physically challenged
Persons with sensitive skin
Persons who are fatigued
Persons who have taken alcohol or drugs that induce sleep (sleeping drugs, cold remedies, etc.)

Observe the following precautions to prevent minor burns or overheating:

Do not cover the seat with a blanket or cushion when using the seat heater.
Do not use seat heater more than necessary.
NOTICE
Do not put heavy objects that have an uneven surface on the seat and do not stick sharp objects (needles, nails, etc.) into the seat.
To prevent battery discharge, do not use the functions when the engine is not running.
Operating instructions
Each time the switch is pressed, the operation condition changes as follows.
Hi (3 segments lit) → Mid (2 segments lit) → Lo (1 segment lit) → Off
The level indicator (amber) light up during operation.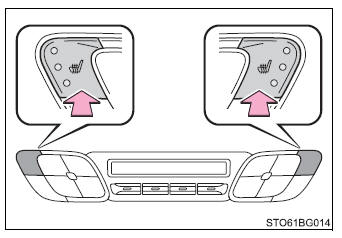 ■Operation condition
Vehicles without a smart key system
The seat heaters can be used when the engine switch is in the "ON" position.
Vehicles with a smart key system
The seat heaters can be used when the engine switch is in IGNITION ON mode.
■ Location of air outlets The air outlets and air volume change according to the selected airflow mode. ■ Adjusting the position of and opening and closing the air outlets Direct air fl ...
Interior lights list Vanity lights (if equipped) Front interior light/front personal lights Rear interior light Engine switch light (vehicles with a smart key system) Glove box light ...