Toyota CH-R Owners Manual: Turn signal lever
Operating instructions
Right turn
Lane change to the right (move the lever partway and release it)
The right hand signals will flash 3 times.
Lane change to the left (move the lever partway and release it)
The left hand signals will flash 3 times.
Left turn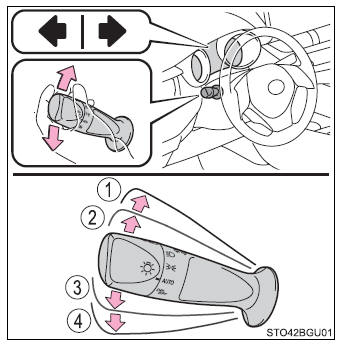 ■Turn signals can be operated when
Vehicles without a smart key system
The engine switch is in the "ON" position.
Vehicles with a smart key system
The engine switch is in IGNITION ON mode.
■If the indicator flashes faster than usual Check that a light bulb in the front or rear turn signal lights has not burned out.
■If the turn signals stop flashing before a lane change has been performed Operate the lever again.
■Customization The number of times the turn signals flash during a lane change can be changed.