Toyota CH-R Service Manual: Dcm Operation History
DCM OPERATION HISTORY
DCM OPERATION HISTORY
This function shows the telematics network status when the DCM (Telematics Transceiver) was operated. Use this when no DTC is present but this telematics system was unable to connect to the call center. This symptom may occur if cell phone signal strength is very weak.
(a) Connect the Techstream to the DLC3.
(b) Turn the ignition switch ON.
(c) Turn the Techstream on.
(d) Choose "Telematics" from the System Selection Menu, and then click "Utility".
(e) Click "DCM Operation History" on the Utility Selection Menu.
Body Electrical > Telematics > Utility
Tester Display
DCM Operation History
(f) Follow the instructions on the Techstream.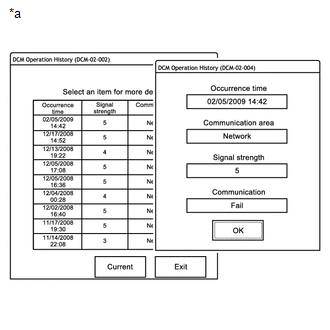 HINT:
"Occurrence time" indicates date of the DCM (Telematics Transceiver) operation.
"Communication area" indicates which communication network was used: Network (Verizon) or Roaming.
"Signal strength" indicates the strength of the cellular signal received by the vehicle: 0 (no signal) to 5 (strong).
"Communication" indicates connecting to the call center: Success or Fail*2.

| Result | Description |
| --- | --- |
| Success | A successfully call made using the manual (SOS) switch or the navigation system (Destination Assist-If available) |
| Fail*1 | A call that was unsuccessful. |
NOTICE:
*1: A failure can also be caused by manually ending an SOS call, and does not necessarily indicate a device malfunction.
HINT:
*2: When communication to the call center fails, "Fail" is displayed.
CAUTION / NOTICE / HINT HINT: Use the following procedure to troubleshoot the safety connect system. *: Use the Techstream. PROCEDURE 1. VEHICLE BROUGHT ...
DCM ACTIVATION DCM ACTIVATION This function should be used to activate the DCM (Telematics Transceiver) after a new DCM (Telematics Transceiver) has been installed. During the DCM Activation pro ...